Father Pius Horvath, O.S.B. Called to Eternal Life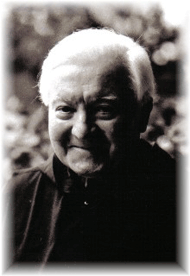 On the twenty-third day of June, 2018 our confrere, Father Pius Laszlo Horvath, O.S.B. strengthened and fortified by the sacraments of the Church, was called home to the Lord after his valiant struggle with the challenges of advanced age. Father Pius was 88 years old at the time of his death and had just celebrated 65 years of his priesthood two days before.
Father Pius was born in Izsa, Czechoslovakia on January 2, 1930 to Hungarian parents, Laszlo Horvath and Rozalia Vatresz. Due to changing borders and political upheavals he always maintained his beloved Hungary to be his real homeland. His early years were lived in the challenging days surrounding the Second World War when he experienced the Nazi occupation of his homeland followed by the Russian Communist occupation. After the Communist takeover, in order to continue his high school education, he was forced to secretly cross the Danube into Hungary, often swimming across. Finally, he was able to enter the Benedictine Order at the Archabbey of Pannonhalma in Hungary where he began his studies for the priesthood. After he was ordained he served as a parish priest. He remarked, "you always had to be careful, who you talked to, how you preached, because the system was spying on you." No one knew, in that situation, who to trust.
The Hungarian uprising of 1956 afforded Father Pius the opportunity to escape religious suppression by the Communist government. In a dangerous and daring journey in the dead of night he was able to cross the border into Austria and from there moved on to Fribourg, Switzerland, where he began studies at the University. It was at the university that he established his lifelong love of languages as he mastered French, German, and even the difficult Swiss-German dialect.
After his time in Europe, he was offered the opportunity by his superior to go either to Brazil or the United States to join Benedictine confreres. For him the choice was easy – California or bust! It was in California where, in 1960, he joined the seven Hungarian monks who had founded Woodside Priory. It was here that he realized his lifelong desire to be a teacher. For over five decades, he served as Latin and German teacher as well as head of the language department at the school. In addition to his schoolwork, Fr. Pius served the monastic community as its Prior and served the Archdiocese of San Francisco as weekend assistant in a number of parishes, notably Saint Denis Parish in Menlo Park and Our Lady of the Wayside in Portola Valley. It was his vision and effort that gave birth to the joining of the Priory to Saint Anselm Abbey in Manchester New Hampshire in 1975.
Throughout his years, Fr. Pius has been an inspiration to the many students he has taught as well as the entire Priory community. His sense of humor, his wit, his wisdom and that sparkle in his eyes will long be remembered by those who loved him.
The Liturgy of Christian Burial will be celebrated by Abbot Mark Cooper, O.S.B. of Saint Anselm Abbey on Saturday, June 30 at 10:00 AM. The monks of Saint Anselm Abbey and Woodside Priory request the customary suffrages for Father Pius.