Abbot Mark's 2018 Christmas Homily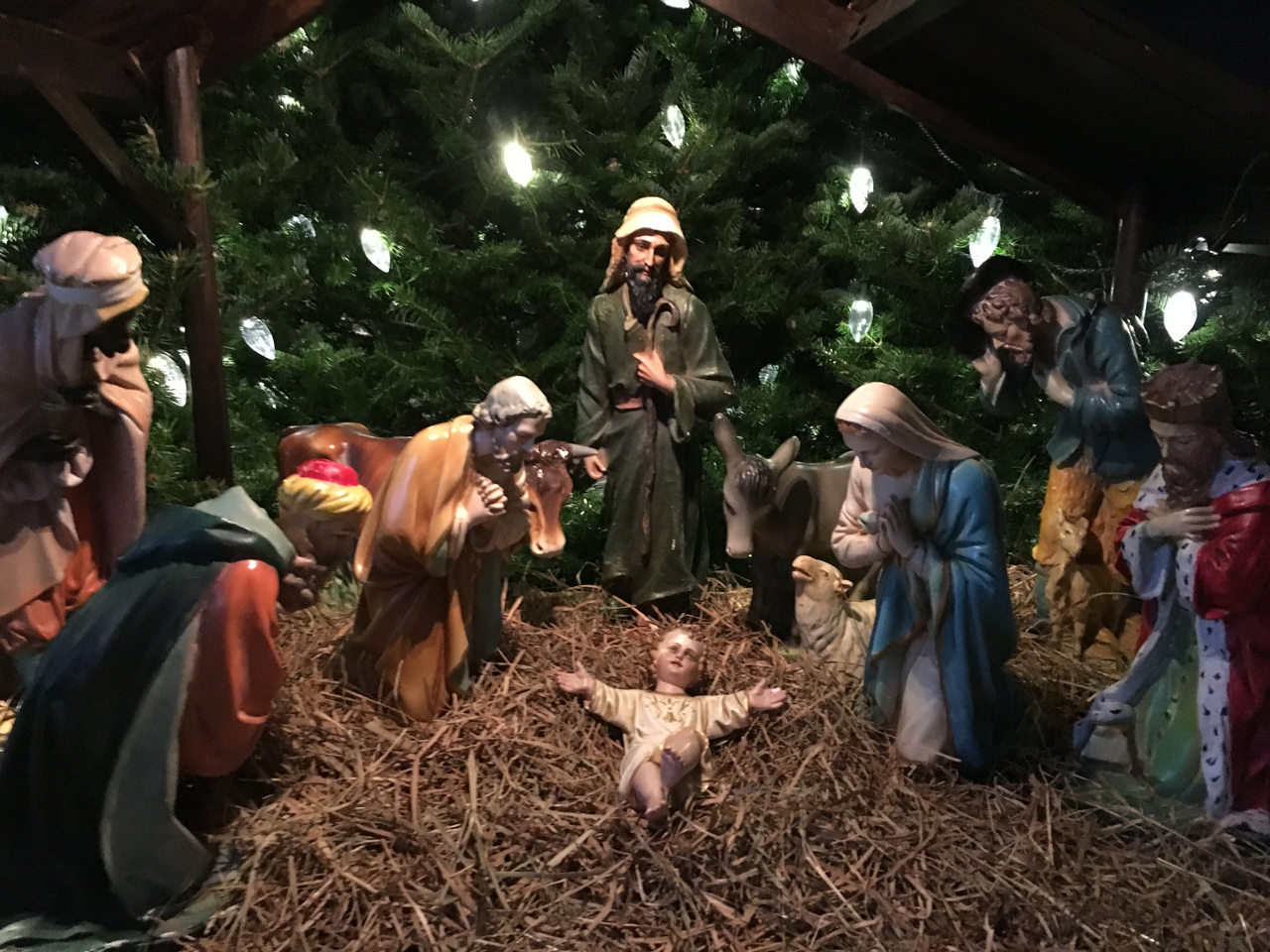 The following homily was given by Abbot Mark Cooper, O.S.B. during Midnight Mass at Saint Anselm Abbey on December 25, 2018.
Just as it did 2,000 years ago the message of hope rings out this night, to all those in need. Just as piercing light came into the world 2,000 years ago to drive away the darkness of sin and death, so tonight, light of the same origin awaits our own individual conversion, that it might disperse the gloom that casts a shadow over our lives. Just as the yoke mankind had placed upon itself through misdeeds, was shattered by the arrival of a tiny infant 2,000 years past, so tonight all that restrains us from our best efforts, all that weighs us down in sadness, can be lifted from us and driven away by our own turning to the Prince of Peace, Christ our Lord.
The Christmas story tells us to whom we must turn, and why. It is God to whom we must look, for He, our Creator, loves us beyond all telling…. that is the very message of Christmas. And the Christmas story shows this. That God would send His only Son for our salvation, for our happiness, fully demonstrates the extent of God's love. The Christmas message is plain to those who will listen, and those who will see with the ears and eyes of faith. God became man (a tiny vulnerable babe) that mankind might become one with God.
No matter what age we have attained, no matter how burdened our life becomes, no matter how alone we may find ourselves, we never cease to be the beloved children of a loving Father. That God sent His son tells us that this is so. From the moment God created each one of us, he has reached out to us again and again in love. Whatever the difficulties are that we have experienced – even when we have placed those burdens upon ourselves by sin, God's love for each of us has never faded or failed. And it never will. As the One who created us, God has always loved us with an infinite love, beyond even the love shown us by those closest to us; and God continues to pour His love into our lives. His unsurpassable love for us is grounded in His infinite nature.
This is the message of Christmas; it is the message of the Scripture readings we heard tonight – God loves us fully in his Son. Christ, bearing the infinite love of the Father, came to earth, to dwell among us…that is the hope of us all. It is Christ to whom we pledge our lives, for it is Christ who alone can guide us to the Father and deliver us into eternal life. Is this not conveyed in the angel's words: "Glory to God in the highest and on earth peace to those on whom his favor rests."? What is God's "favor" if not His only begotten Son?
Pope Saint John Paul II magnificently echoed this message of Christmas, the infinite love of the Father shared with man at the birth of Jesus, as the Holy Father addressed the youth of the world:
"It is Jesus that you seek when you dream of happiness.
 He is waiting for you when nothing else ever satisfies you.
He is the beauty to which you are so attracted.
It is He who provokes you with that thirst for fullness
that will not let you settle for compromise.
It is He that urges you to shed the masks of a false life.
It is He who reads in your hearts your most genuine choices;
the choices that others try to stifle.
It is Jesus who stirs up in you the desire
to do something great with your lives,
the will to follow an ideal,
the refusal to allow yourselves to be ground down by mediocrity,
the courage to commit yourselves humbly and patiently
to improving yours lives and the lives of all.
The people of old awaited a great king backed by an army that could impose a new order on the entire world. Instead a tiny child was sent, wanting only to rule the heart.
We, too often, look for a god who will turn our every wish into reality. Instead, we received a tiny infant, God's response to us. That response: follow Christ alone with steadfast faith, and your every dream will be surpassed by the plans of a Father whose love for you is beyond all your imagining.
 
Choose the Lord, and the light that drives away gloom will shine upon you. Choose Christ and the yoke and the burdens of life will fall from your shoulders. Turn to Christ, the gift given us once and for all, and you will be made new. He approaches you this night asking entrance into your heart. May all of us open wide the doors of our hearts and admit the gift of God's presence. Then will we be fully alive, just as God planned, when He sent the Christ child among us. May God truly bless you with the gift of His son tonight and all the days of your lives.
MERRY CHRISTMAS