Abbot Mark's Homily for the Saint Anselm College 2018 Baccalaureate Mass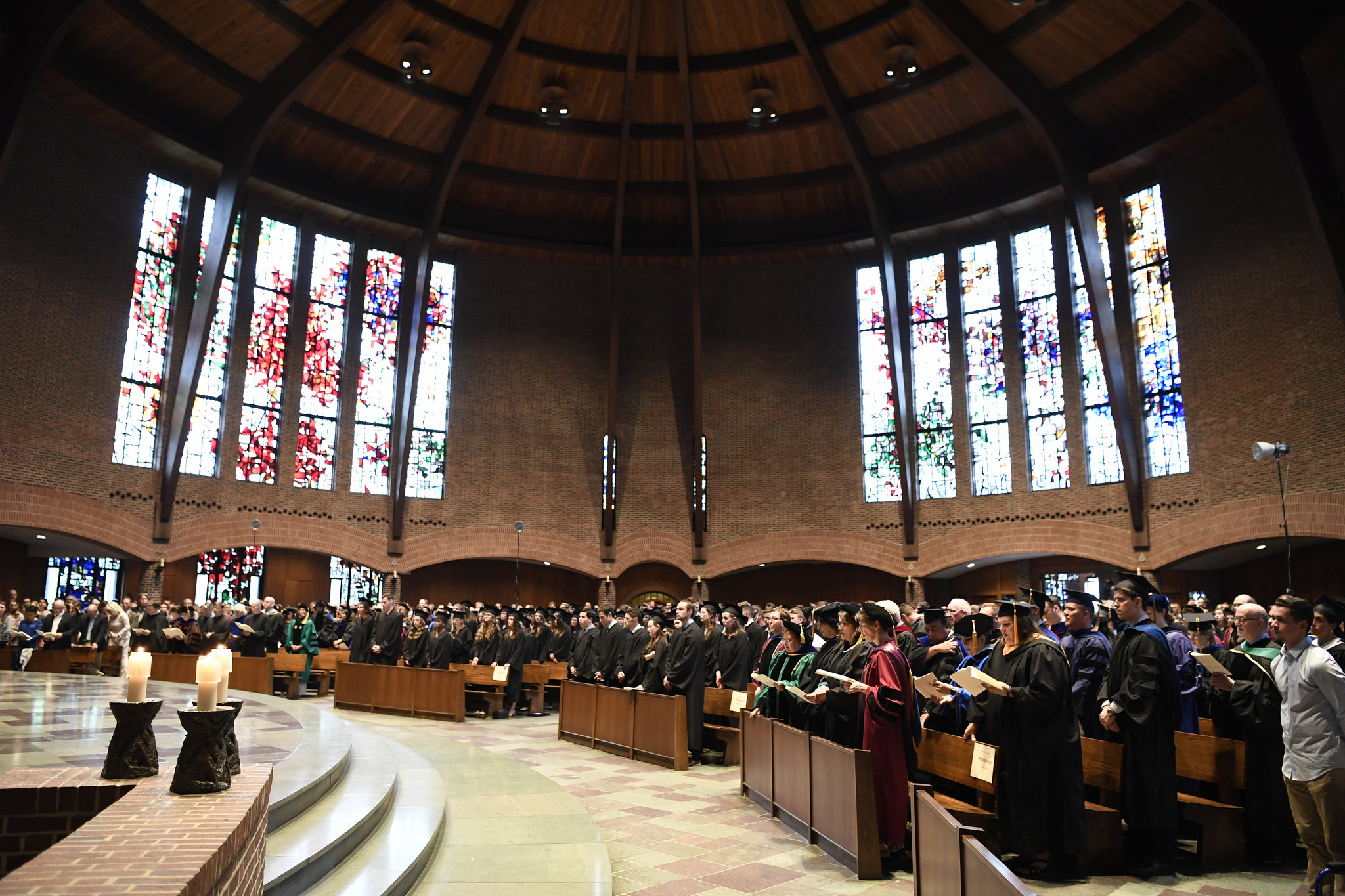 This is the homily given by Abbot Mark Cooper, O.S.B. on the occasion of the Saint Anselm College Baccalaureate Mass for the Class of 2018.
Fifty-four years ago during the Church's Second Vatican Council, bishops from every corner of our world authored a document which they entitled "Light of the Nations"…Lumen Gentium. It put forth a sweeping vision of the Church, and the Church's role in the destiny of every man and woman, every living soul. In that document there are found phrases that should resonate in the hearts of our soon-to-be graduates, and certainly in the hearts of those members of their families, especially mothers and fathers who gather today and tomorrow to celebrate with the Saint Anselm class of 2018. For the bishops in 1964 wrote these words: "the family is, so to speak, a 'domestic church'" and the primary  duty of parents is the "rearing and education of their children" (LG, 11).  Class of 2018, I do not think anyone needs to remind you of what you owe your family. In the context of family you first learned how to walk and talk, to dress and feed yourself, and later, how to act in public and in private. Faith and wisdom were introduced and nurtured in the home. Your family, though imperfect like all families, was the first model for you of goodness, generosity, and even holiness. 
Many of your most vital early lessons may have come to you indirectly, but one very explicit lesson was in memorizing the most important tune you were ever taught: "Now I know my ABCs." 
With the alphabet, your parents, older siblings, and earliest teachers provided you the foundation for a life of learning – in short, the possibility for a life well-examined and well-lived. I would guess there is more than one parent sitting here that remembers vividly the first time your son or daughter struggled all the way through to Z, and finished with a triumphant, "Next time won't you sing with me." All accompanied by deafening applause I'm sure.
Class of 2018, you did not know it at the time, but you were being handed, in a lyrical, melodious tune, the building blocks of your future.  Those lessons in letters eventually allowed you to enter into new worlds in literature - through JK Rowling, Tolkien, and Shakespeare.  The alphabet provided you access to updates around the world, as well as close to home, through stories by CNN, and (though not all would admit it) tweets by Kim Kardashian, and even the President of the United States.  With your early lessons in learning, you were given the freedom to write your own stories, limited only by the reach of your imagination. Our excellent faculty have labored to advance your understanding, they have instructed, they have mentored, they have counseled and they have demonstrated great care and concern for you as individuals.
It is my hope that, building on your academics, your entire experience at Saint Anselm College has provided you a new alphabet, a unique A, B, and C giving you a key not only to this earthly life, but to the life to come. 
We begin with the letter A for Anselmian: an over-used, perhaps somewhat misunderstood reference.  Anselmian – a word, in case you did not know, which does not actually mean anything, but at the same time, a word alive with associations for all of us who have lived and studied here.  Every one of you (as well as all alums of this College) has at least a sense of this term.  It is the simple politeness in holding a door, even for someone a bit too far away…it is the rightness in greeting those whose name you do not know, but whose presence you have encountered before, acknowledging another's inherent dignity.  Anselmian is a call to engage the world through our neighbor.  It compels us to serve others because we have been blessed with many gifts. We are called to share those gifts with all whom we encounter, and challenged always to expand our outreach to those in need. 
Class of 2018 you are well aware that your College is distinct from many other schools you might have chosen. We are this way intentionally.  We do not seek to be like everyone else, nor do we seek to be different.  We seek God, and the Truth which God reveals.  We do this by deliberately fostering faith, community, dialogue, and service in ways which align with our Anselmian tradition – a tradition which has far deeper roots than simply those of this campus community.
We proceed to the letter B, and we come to the word Benedictine.  When students are asked to describe Benedictine qualities, the first word that often comes to mind is hospitality.  This may be something of a disservice, for I would suggest we Benedictines are so much more than that.  Benedictines aspire, around the world and on this campus, to be men and women of faith, committed to our God and the people whom God entrusts to our care.  Benedictines are not simply 'hospitable' or 'kind' or, as I read in the Crier this year, "cute" (we thank you for that one)– but hopefully we Benedictines are individuals who witness to the Gospel, to gracious stewardship of God's gifts, to deep and honest prayer, to faithfulness to a way of life which we believe, as our founder St. Benedict tells us, will lead us to "run on the path of God's commandments, our hearts overflowing with the inexpressible delight of love" (RB, Prologue 49). 
To be Benedictine is to desire to be life-giving and self-giving.  A monk must find ways, within his given vocation, to seek God and serve Christ in his neighbors and community.  We receive all good things from God and we seek to give all these gifts back to Him.  We hope to offer over our wills, our desires, even our bodies to God. He will reform them, refine them, and, in His good time, endow us with grace unimaginable that we might, by following His example, give ourselves even more completely to others. We do not expect every one of our students to 'take the black'.Yet we do hope the Benedictine charism challenges our students, faculty, staff, and our own monastic community; to share, to give, and to give again, trusting in the Lord's promise that in giving, we will receive. 
We arrive at the letter C, and so examine the significance of our Catholic nature. In our new alphabet, A and B are meaningless without C, for Catholic is the root system that gives life to the entire tree.  What has your time at St. Anselm taught you about this Catholic faith?  You may have learned a bit about Scriptural exegesis in Bib Theo or Intro to New Testament, you were introduced to Catholic philosophical thought, and some of the beauty of Catholic artwork in your Conversatio program.  Yet this philosophical thought, this artwork, or Scriptural exegesis is useless, if you have not also been introduced into a personal relationship with the God Who loves you, who died that you might live, and who sends His Spirit that you might abide in freedom and in Truth.  St. Paul, in prison, spoke of his personal love for Christ in these words, "It is on account of the hope of Israel that I wear these chains" (Acts 28:20).  It is the same with us; it is for the hope of Israel, that is, Christ Himself, that our Benedictine forbears founded this College 129 years ago.  It is for the hope of Israel, that is, Christ Himself, that we continue to minister here.
"The Catholic, Benedictine tradition of the college provides a special dimension to the educational effort one experiences on this campus...If Saint Anselm College remains grounded in the faith of the Church, and the wisdom it provides, then the message of the Church, so desperately needed by the world today, will have been incorporated into the learning experience of all who come here, and will be carried with them into our wider society. You are graduating into a world which is hesitant to accept all that you have garnered here, and may even, at times, be hostile to it.  Be prepared for that, and have the courage to stand up against the world in those places where it is clearly wrong.
Blessed John Henry Newman calls a Catholic university a "place which wins admiration…kindles the affections…and rivets fidelity".  He says a Catholic college should be "a seat of wisdom, a light of the world, a minister of the faith, an Alma Mater of the rising generation". Have we been this for you?  Have you been nourished and formed in your four years here? Are you more you, are you more alive? Have you deepened your faith, expanded and enlightened your intellect?  In speaking with you, your classmates, your professors, family, and friends, I believe that indeed you have.  Now comes the time to offer to others what you have gained here.  Now is the time to go into the world and speak out using this new alphabet of ABCs, learned and cultivated here at a very special place, a place where you are, and always will be, cherished, and where we who remain behind look forward to your every return. God bless you Class of 2018.