Brother Basil Professes Simple Vows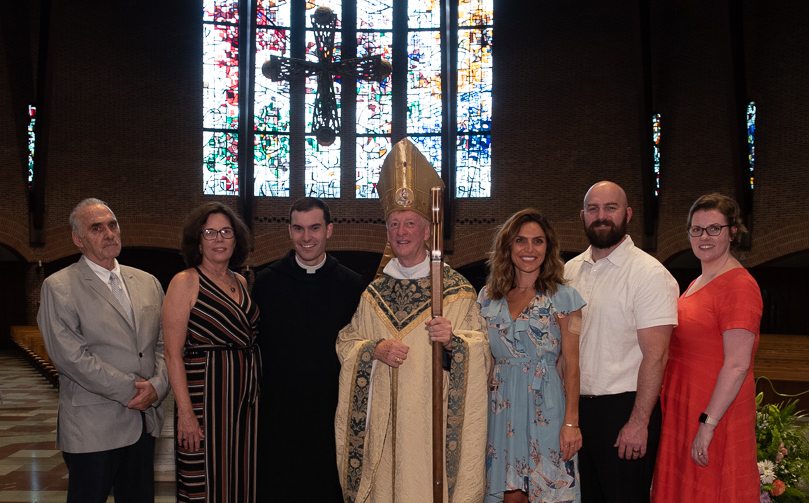 Brother Basil Louis Franciose, O.S.B. professed temporary vows as a monk of Saint Anselm Abbey on July 11, 2019, the feast of Our Holy Father Benedict. Abbot Mark Cooper, O.S.B. presented Brother Basil with the full monastic habit and a copy of the Rule of Saint Benedict. The day co-incidentally was Br. Basil's 25thbirthday.
Through his temporary profession of vows, Brother Basil embraces the vows of the Order of St. Benedict: obedience, stability, and conversatio morum (fidelity to monastic life) as cited in chapter 58 of the Rule of Saint Benedict. Upon completing three years as a junior monk, and after careful prayer and deliberation, he may petition the monastic community to profess solemn vows and become a permanent member of the monastic community.
Brother Basil is from Salt Lake City, Utah. He graduated from Saint Anselm College in 2017 with a degree in Theology and a minor in Philosophy. Brother Basil graduated from Judge Memorial Catholic High School in Salt Lake City in 2013.
"I am humbled to be a part of this community that I had the joy of interacting with for 4 years as a student." said Brother Basil, "When I look back on God's hand in my life over my 25 years, I can see his gentle nudges that have brought me to this day.  I trust that God has brought me here with his grace."
Brother Basil will pursue seminary studies for the priesthood this fall.