Brother Titus and Brother Dunstan Profess Simple Vows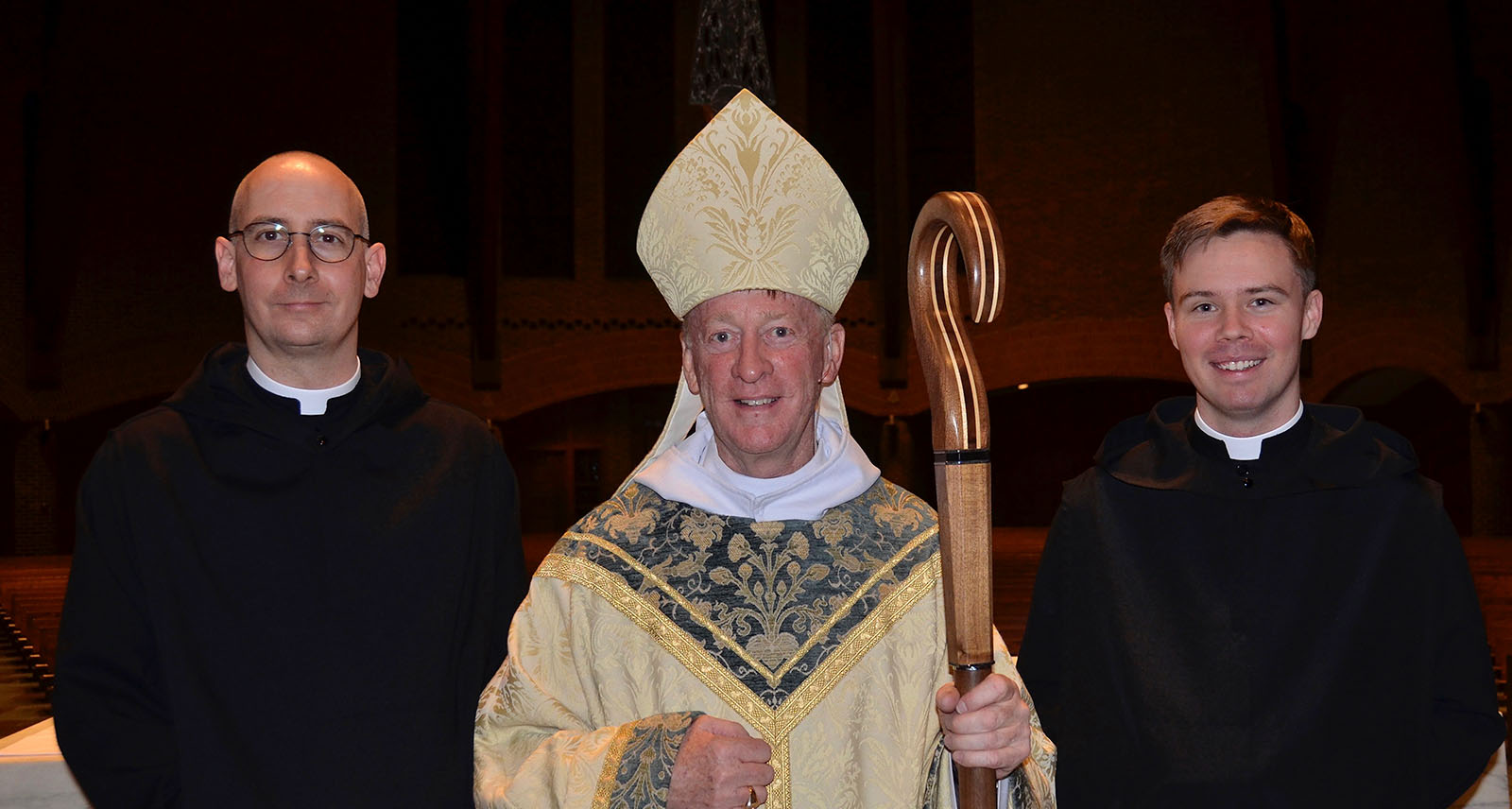 Brother Titus Michael Phelan, O.S.B. '12 and Brother Dunstan Noah Enzor, O.S.B., have professed temporary vows as monks of Saint Anselm Abbey. On January 15, 2019, the memorial of Saints Maurus and Placid, Abbot Mark Cooper, O.S.B. presented Brothers Titus and Dunstan with full monastic habits and copies of the Rule of Saint Benedict.
Through their temporary profession of vows, Brothers Titus and Dunstan begin their three-year "juniorate" phase where they embrace the vows of the Order of St. Benedict: obedience, stability, and conversatio morum (fidelity to monastic life) as cited in chapter 58 of the Rule of Saint Benedict. Upon completing three years after careful prayer and discernment, they may petition the monastic community to profess solemn vows and become permanent members of the monastic community.
Brother Titus is from Swampscott, Massachusetts. He graduated from Saint Anselm College in 2012 with a degree in Political Science and minors in Catholic Studies and Spanish. He completed the Echo program receiving a Master's degree in Theology from the University of Notre Dame in 2014. Before entering the monastery, he served as a Campus Minister at The Catholic University of America.
Brother Dunstan is from Boulder, Colorado. He graduated from the University of Colorado-Boulder in 2007 with a degree in English.  He received a Master's degree in Theology from Saint Joseph's College in Maine in 2017. Before entering the monastery, he worked in technical publishing and higher education administration.
This coming semester, Brothers Titus and Dunstan will pursue further theological studies at Saint John's Seminary in Brighton, Massachusetts in addition to teaching responsibilities at Saint Anselm College.