Father Mathias' Homily for the Class of 2022 New Student Orientation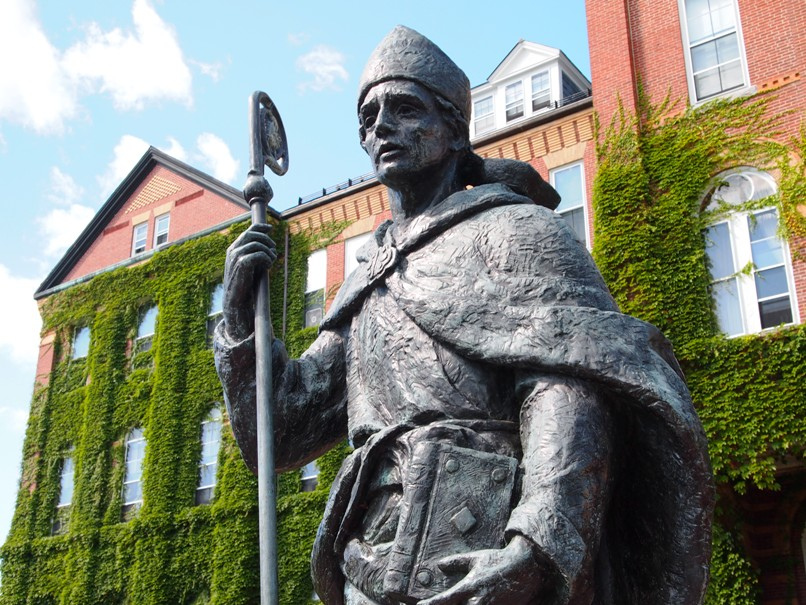 Ezekiel 36:23-28; Matthew 13:44-46
At the Baccalaureate Mass in May, Abbot Mark reminded the Class of 2018 about the basic values found here at Saint Anselm. I thought it was a perfect way to bid farewell to the Class and I think it's a perfect way to welcome you, the Class of 2022, as you begin your four years here at the Hilltop – your new home.
The home you've come from is where you learned how to walk and talk, where you learned how to act in public and private, where you were taught to dress and feed yourself. Many of those lessons may have been done indirectly, but one implicit lesson may have been in learning the most important song you ever learned: and that would your ABCs.
In teaching you your ABCs, your family or earliest teachers gave you the foundation of a life of learning and academic pursuit. You did not know it at the time, but you were being handed, in a singsong fashion, the building blocks of your education. It enabled you to learn how to read and write. 
The alphabet gave you access to knowledge, to updates around the world and close to home in news stories, texts, and tweets; it exposed you to reading some novels and classical literature. Your mastery of the alphabet led you to apply to this College. And this College accepted you! Congratulations!
Saint Anselm College, your new home, will teach you more about your ABCs. 
Your Orientation Leader or your Resident Assistant or your Transitions Leader or any of the upperclassmen here right now will tell you that A is for Anselmian– a word which does not actually mean anything but, at the same time, means everything to us. 
I say 'Anselmian' and every upperclassman and alumnus will know what I mean.
It means the habit of holding a door open for someone too far away; it means the tendency of saying hello to that 'stranger' you see every day at Davison Hall. Being Anselmian is a call to engage the world through your neighbor. Being Anselmian is having a home away from home, a stable, welcoming, caring, and loving community – especially in moments of loss, grief, or heartache. Being Anselmian calls us to serve others because we want to, to share the gifts we have with all whom we encounter, realizing that it always challenges us to encounter more. 
You will notice that our College is different from the other colleges and universities your friends may have chosen to attend. We do this on purpose. We do not seek to be like everyone else and we do not seek to be different. We seek God, and the Truth (with a capital 't'), which God reveals to us. We do this by intentionally fostering community, by promoting dialogue, and by encouraging you to perform deeds of service in ways that align with our Anselmian tradition – a tradition that has deeper roots than simply this campus.
And that brings us to the second letter in the alphabet and, here at Saint Anselm College, B is for Benedictine. When students are asked to describe Benedictines, the first word that comes to mind is, usually, hospitality. Yet I know that we Benedictines are so much more than that. We are, around the world and on this campus, people of faith, committed to our God and the people whom God entrusts to our care (that would be you, our students). The word 'Benedictine' does not simply mean 'nice' or 'kind' – but joyful witnesses to the Gospel, gracious stewards of God's gifts (like our College), people of deep and honest prayer, of faithfulness to a way of life which we believe, as our founder Saint Benedict tells us in his holy Rule, will have us "running on the path of God's commandments, our hearts overflowing with the inexpressible delight of love."(RB, Prologue 49)
To be Benedictine is not to be boring or haughty, but life-giving and self-giving.
A monk must find ways, within his given vocation, to seek God and to serve Christ in his neighbors and community. We receive all good things from God and we seek to give all those gifts back to God. We give over our wills, our desires, even our bodies to God, Who reforms them, refines them, and, in God's good time, endows us with grace unimaginable so that we might, by following His example, give ourselves even more completely to others. We do not expect every one of our students to 'take the black' – but we are recruiting in case anybody is interested!
We do hope to challenge you, our students, to give of yourselves to God, and to give even more, trusting in the Lord's promise that in giving, you will receive. 
Which brings us to the third letter in the alphabet. Here at Saint Anselm College, C is for Catholic.
A, B, and C: in this formula, the A and the B are meaningless without the C. Picture it like this: the A is the leaf, the B is the stem, and the C is the roots.
Members of the Class of 2022, you will discover that your time here at Saint Anselm will teach you things about your faith. Through your classes you will be introduced to Catholic philosophical thought and some of the beauty of Catholic artwork in Conversatio. You will come to realize that philosophical thought, artwork, or Scriptural studies are useless if you are not also introduced into a personal relationship with the God who created you and loves you.
In today's first reading from the prophet Ezekiel, we are told, "… the nations shall know that I am the Lord, when through you I show my holiness before their very eyes. … I will put my spirit within you so that you may walk in my statutes, observe my ordinances, and keep them… You will be my people and I will be your God..."
By seeking to do the will of God, our Benedictine forbears founded Saint Anselm 129 years ago. It is in imitation of our forbears that we continue to minister here. Some would have the Benedictines pushed aside but that will not happen! We will not betray the founders of this special and holy place by a few who cannot understand what it truly means to be Anselmian.
When the monks chose Abbot Mark as our fifth abbot and chancellor of the College back in 2012, he had this to say about the College: "The Catholic, Benedictine tradition of the College provides a special dimension to the educational experience at Saint Anselm...If we stay grounded in the faith of the Church and the wisdom it provides, we will offer an education that is beginning to become more and more unique…[T]he Church has a message that is very much needed by the world today, [and if we better] incorporate that message into the learning experience we provide for our students, we will be producing graduates who can bring a new dimension to society."
And we do…
In today's Gospel, Jesus told us that the Kingdom of God was like a treasure buried in a field or a fine pearl that someone bought at great price. My prayer is that Saint Anselm College becomes that treasure for you. But here's another way to look at that Gospel: perhaps you are the treasure that we seek – and perhaps that's why you were accepted to come here…
Class of 2022, you will be prepared for a world which will, at times, be hesitant to accept all that you will gain here, and may even, at times, be hostile to it. We will prepare you so that you can show the world how wrong it can be. 
Blessed John Henry Newman called a Catholic university a "place which wins admiration…kindles the affections…and rivets…fidelity." He said that a Catholic college should be "a seat of wisdom, a light of the world, a minister of the faith, an Alma Mater [a nourishing mother] of the rising generation."(Rise and Progress of Universities by J.H. Newman, p. 16).
This place will be that for you! You will be nourished and formed here. You will be a different person four years from now because you will have become enlightened, you will have developed your intellect and deepened your faith. You will become better than you already are. You will become more alive. And I guarantee you this: you will come to dread the day you graduate because you will have fallen in love with this awesome place – the way every true Anselmian does. 
And in four short years, you will have the opportunity to show off, to go out into the world and teach the world the ABCs of Saint Anselm College…
So welcome to your new home, Class of 2022, our newest Anselmians!
May God bless you and all those you love.
Father Mathias, O.S.B.