Monastery Hosts Students, Alumni for Annual Holy Week Retreat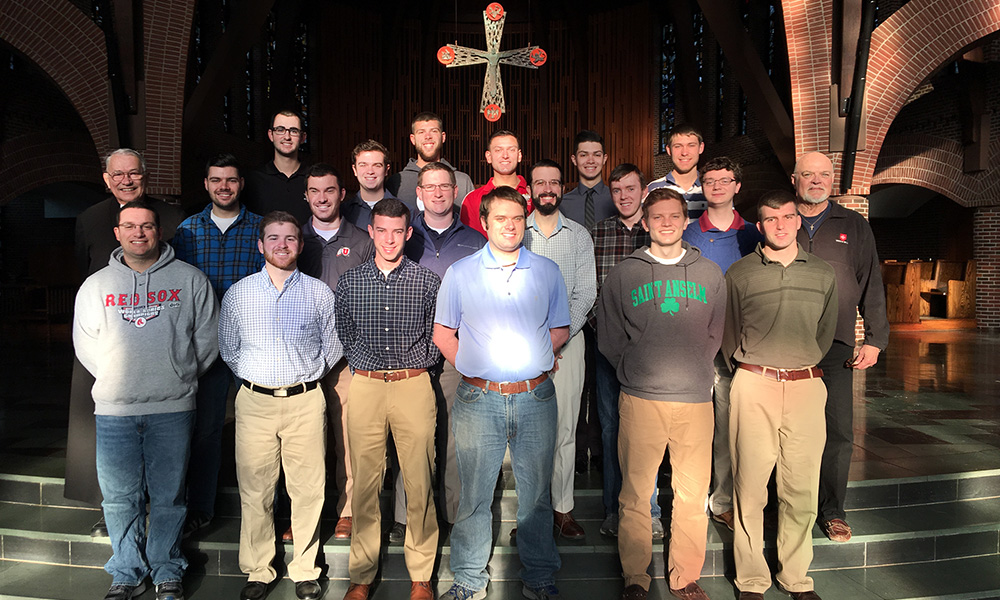 Twenty-two Saint Anselm College students and alumni have joined the monastic community during Holy Week for the annual Saint Anselm Abbey Triduum Retreat. Beginning on Wednesday afternoon of Holy Week until Easter Sunday, April 12 - 16, these men are joining the monks for prayer, meals in the monastic refectory, work, and recreation.
The retreatants are following the daily monastic schedule which includes praying the Liturgy of the Hours, attending the Eucharist, participating in manual labor, and spending some time of relaxation with the monastic community. In addition, several monks are offering conferences focused on the history, significance, and liturgical meaning of the sacred days of Holy Week to help the retreatants gain a deeper appreciation for the great feast of Easter, as well as for the observance of monastic life at Saint Anselm Abbey. During the liturgies, the retreatants are assisting the monks as altar servers, singers, lectors, and ushers.
"We are always very pleased to welcome guests during this most sacred time of the Church year," stated Abbot Mark Cooper, O.S.B. "In past years, our guests have been most enthusiastic in response to their experience here, and it has always been a special time of the year for the monks as well, as we welcome to the monastery and our celebrations, so many individuals who are most serious about their commitment to the faith."
The Abbey's newest professed monk, Brother Francis McCarty, O.S.B., said, "Participation in the Triduum retreat both as a student and as an alumnus really influenced my decision to pursue a monastic vocation. I was attracted to the life, and found at one point that I would find it very difficult to imagine myself celebrating Holy Week and Easter apart from the Abbey. That helped me make my decision to join this monastic community."
All members of the public are welcome to join the monastic community in celebrating Holy Week and Easter:
Holy Thursday: Evening Mass of the Lord's Supper - 4:30 p.m.
Good Friday: Commemoration of the Lord's Passion - 3 p.m.
Holy Saturday: Easter Vigil - 10 p.m.
Easter Sunday: Mass of Easter Day - 11 a.m.