Saint Anselm Abbey Designates $50,000 Gift to Scholarship Fund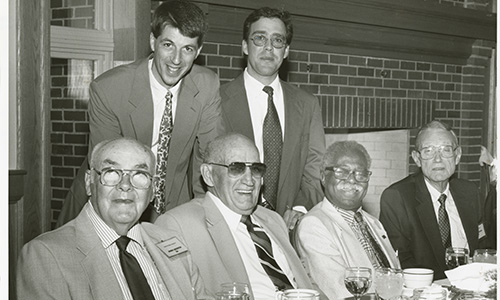 The monks of Saint Anselm Abbey have designated a portion of their gift to the Saint Anselm College Faith in the Future Capital Campaign for the Ernie Thorne '34 Scholarship for Racial Equality.  In designating this gift of $50,000, the monks of the Abbey hope that others will join in supporting the fund so that the College's diversity initiatives will be sustained for years to come.
The Ernie Thorne '34 Scholarship for Racial Equality will provide financial aid and educational opportunities to underrepresented students from Manchester, Southern New Hampshire, and California.
The idea for the scholarship originated with Denis Lynch '81 and Keith Woolley '82 in response to the deaths of George Floyd and Breonna Taylor. Lynch and Woolley have made leadership gifts to establish the scholarship and the Hewlett Packard Corporation matched all gifts contributed to the fund from Hewlett Packard employees through October 1, 2020.  To date, over $175,000 has been raised to support the fund.
As the story is recounted, in 1930 Ernie's mother visited the campus and convinced the monks of the Abbey to admit her son Ernie to the College even though he and his family did not have the resources to finance his education.  The monks admitted Ernie to the class of 1934 on a complete scholarship.  Ernie Louis Thorne graduated from Saint Anselm College in 1934, becoming the first Black Anselmian alumnus. While on campus, Thorne was a member of Delta Sigma Mu, serving as the secretary and vice president, and worked as a reporter and contributing editor for "The Tower" newspaper.
After graduation, Thorne continued to live and work in Manchester for the rest of his life where he was a well-known member of the community. Thorne worked as a car salesman, driving instructor, and later in life as the visitor host of the Anheuser-Busch brewery in Merrimack, N.H. where he met many Saint Anselm students. He regularly attended alumni and sporting events at the College and served as the vice chairman of the Order of Golden Anselmians. Thorne passed away in 1995 at the age of 85, and his class ring is held in the Saint Anselm College archives.
Ernie and his mother were devoted parishioners of Saint Raphael Parish, the Benedictine parish in Manchester operated by the monks of Saint Anselm Abbey since 1888.
For more information about the Ernie Thorn '34 Scholarship Fund or to donate to the find, click here