Simple Vows Professed by Brother Francis of Saint Anselm Abbey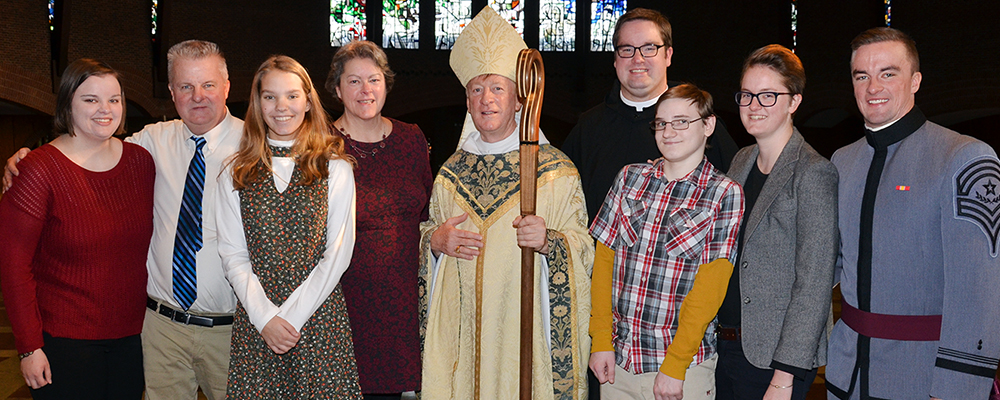 Brother Francis Ryan McCarty, O.S.B., has professed temporary vows as a monk of Saint Anselm Abbey. On January 14, 2017, Abbot Mark Cooper, O.S.B. presented Brother Francis with the full monastic habit and a copy of the Rule of Saint Benedict.
Through his temporary profession of vows, Brother Francis begins his three-year "Juniorate" phase where he embraces the vows of the Order of St. Benedict: obedience, stability, and conversatio morum (fidelity to monastic life) as cited in chapter 58 of the Rule of St. Benedict. Upon completing three years and careful prayer and deliberation, he may petition the monastic community to profess solemn vows and become a permanent member of the monastic community.
Brother Francis, also known as Ryan McCarty from North Smithfield, Rhode Island, graduated from Saint Anselm College in 2010 with a degree in History and a certificate in Catholic Studies. Prior to joining the monastic community, he was a theology and technology education teacher at Mount Saint Charles Academy in Woonsocket, RI.
"When asked why I decided to pursue a religious vocation, I tell people that it was always an option for me," said Brother Francis. "I owe that attitude to my parents and family. I have found a spiritual home here at Saint Anselm. I believe that God is calling me to be here to serve him and his people."
Brother Francis is currently completing pre-requisites for the seminary at Saint Anselm College and hopes one day to be ordained a priest.
The Order of Saint Benedict in New Hampshire was founded in 1889 and founded Saint Anselm College.