Living Out The Catholic Faith
The monks of Saint Anselm Abbey live the Gospel life following The Rule of Saint Benedict.
Benedictines in New Hampshire
In 1889, the Benedictines came to New Hampshire from Newark, N.J. in order to found a parish and plan their educational and monastic endeavors.
Committed to Catholic Education
Work is a vital part of our life as monks. Our primary apostolate is Saint Anselm College, an undergraduate liberal arts college with a strong Catholic and Benedictine tradition.
Become a Monk
"Seeking his workmen in a multitude of people, the Lord calls out to him and lifts his voice again: Is there anyone here who yearns for life and desires to see good days?"
The Rule of Saint Benedict, Prologue 14-15
Our Prayer Life
We are a community of prayer. All members of the Saint Anselm community and the general public are welcome to join us for our public liturgies.
Abbey News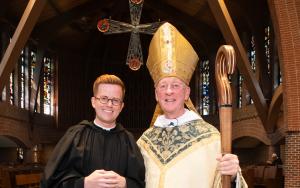 Solemn Vows
On September 2, 2023, Brother Celestine Benjamen Hettrick, O.S.B., professed…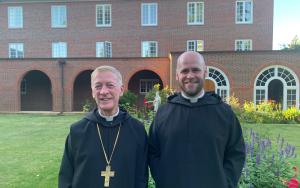 Solemn Vows
On Wednesday, August 23, 2023, Brother George Benjamin Rumley, O.S.B.'s…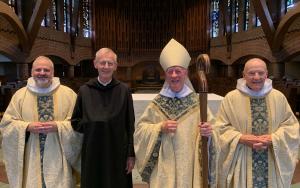 The Benedictine monks of Saint Anselm Abbey in Manchester, NH celebrated the…