About Abbot Mark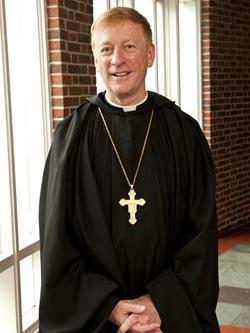 On June 5, 2012, the monks of Saint Anselm Abbey elected Abbot Mark Cooper, O.S.B., as their new abbot. By virtue of his new position, he also became the Chancellor of Saint Anselm College.
As the fifth abbot of Saint Anselm Abbey, Abbot Mark serves as the monastic community's religious superior and spiritual leader. He is also the highest-ranking administrator as chancellor of the college.
Part of this historic event included the retirement of Abbot Matthew Leavy, O.S.B. after almost 27 years of service, making him one of the longest serving abbots in the Benedictine Order worldwide.
Prior to his election, Abbot Mark managed the abbey and college's finances for 33 years and was set to retire as the treasurer and vice president of financial affairs. Abbot Mark professed vows as a member of the Benedictine community at Saint Anselm in 1972 and was ordained to the priesthood in 1976. He earned his bachelor's degree in political science in 1971 from Saint Anselm College. He earned an M.S.A. in business administration from the University of Notre Dame. He studied at Saint John's Seminary in Boston and St. Albert's Seminary in Oakland California. He taught at Woodside Priory in California and received an Alumni Award of Merit in 2003 for his contributions to the growth of the college.
A Message from Abbot Mark
This website introduces you to a few of the fundamental principles that shape our way of life as Benedictine monks of Saint Anselm Abbey. Our life is one of prayer and praise, with Christ as both the source and object of our' vocation. Our vows of stability, conversion of life, and obedience, support the monk in the gift of himself to the Lord. These vows assist in  liberating the monk from self-centeredness and help him to see and encounter Christ in his brother monks as well as all those whom the monastic community serves-students, colleagues, guests, parishioners, as well as the suffering and those in need. Life in the monastery is so ordered that the monk may seek God and respond to Him through the daily celebration of the Eucharist, the divine office (the choral recitation and singing of the psalms and scriptural canticles), personal prayer, lectio divina (meditative spiritual reading), and community work.
Every Christian is called to a life of holiness. The monastic way of life is one way to share in this call. We encourage you to join us in praying for an increase in vocations to our monastic community.
On September 10, 2012, Right Reverend Mark A. Cooper, O.S.B. was blessed as the 5th Abbot of Saint Anselm Abbey.  He was blessed by his uncle Bishop Joseph Gerry, O.S.B., Bishop Emeritus of Portland and 3rd Abbot of Saint Anselm Abbey.
On June 4, 2012, the chapter of Saint Anselm Abbey elected Father Mark A. Cooper, O.S.B. as the 5th Abbot of Saint Anselm Abbey.  The monastic community conducted a service of thanksgiving following the election where Abbot Mark was presented to the larger Saint Anselm community.