History of the Benedictine Order
Saint Benedict (480-547), was born in Nursia, a town in central Italy, and began studies in Rome before embarking on a hermit's life in a cave at Subiaco. He later founded the monastery of Monte Cassino where he wrote his Holy Rule. In the course of the Middle Ages, all monasticism in the West was brought under the Rule of Saint Benedict. Through the prayer and work of his followers, Benedict profoundly influenced the spiritual, educational, and cultural life of Western civilization.
Benedictines in New Hampshire
The first Benedictine foundation in the United States was established in 1846 at Latrobe, Pa. This monastery, Saint Vincent Archabbey, became the first abbey of the American-Cassinese Congregation. From here, a daughter house, Saint Mary's Abbey in Newark, N.J., was founded in 1857. Thirty-one years later in 1889, the Benedictines came to New Hampshire from Newark in order to found a parish and plan their educational and monastic endeavors. Saint Anselm College grew out of this work
Additional information about Saint Anselm of Canterbury can be found on the College Web site.
In the most fundamental way, the monk's search for God unfolds in the context of fraternal life in community. Fully aware that a monastic community is made up of a "wide variety of temperaments," Saint Benedict fashioned his rule so that both formal and informal elements assist the monk not only in his fellowship with Christ, but also in his fellowship with his brother monks. 
At Saint Anselm, the monks formally pray together daily and work for a common apostolate, the College; but they also recreate together, eat together, and share the joys and sorrows of those who share a common home and life.
2017 Community Photo: Feast of Saint Benedict
2012 Community Photo: Election of Abbot Mark Cooper, O.S.B.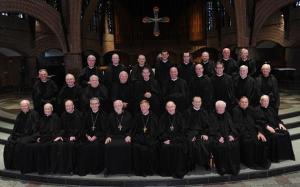 1986 Community Photo: Election of Abbot Matthew Leavy, O.S.B.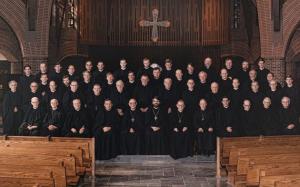 1972 Community Photo: Election of Abbot Joseph Gerry, O.S.B.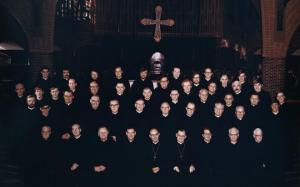 1963 Community Photo: Election of Abbot Gerald McCarthy, O.S.B.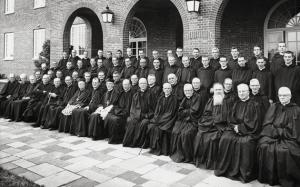 1927 Community Photo: Election of Abbot Bertrand Dolan, O.S.B.