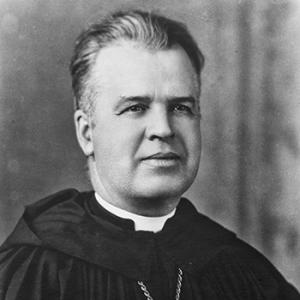 Abbot Bertrand Dolan, O.S.B.
Abbas I, 1927 - 1968
Abbot Bertrand was born in Cambridge, Massachusetts on June 9, 1886. He professed vows as a monk of Saint Mary's Abbey in Newark, New Jersey on October 18, 1907. He was ordained to the priesthood on June 17, 1911. He served as a lieutenant in the Chaplain's Corps with the American Expeditionary Forces in France during World War I. In 1927, Saint Anselm Priory was elevated to an abbey by Pope Pius XI. Abbot President Ernest Helmstetter, president of the American-Cassinese Congregation, conducted the first abbatial election, and the monks in solemn vows elected Fr. Bertrand Dolan, O.S.B. as first abbot of Saint Anselm Abbey on October 4, 1927. As abbot, he sent monks to graduate studies, allowed laymen to join the faculty of the college, reinstitued football, and discontinued the Saint Anselm prep school.  He led the college and abbey through the Depression years and a period of low enrollment during World War II. During the war, he allowed the Army Air Corps to conduct a pre-flight cadet program on campus.  He discontinued the abbey's farm after the war.  In 1963, he requested permission from the Vatican for the abbey to elect a coadjutor abbot. This led to the election of Abbot Gerald McCarty, O.S.B. Abbot Bertrand died on February 7, 1968 after reigning as abbot for more than 40 years.  Bertrand Hall, a female residence hall, is named in his honor.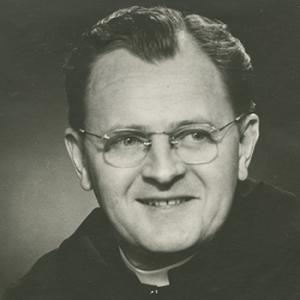 Abbot Gerald McCarthy, O.S.B.
Abbas II, 1968 - 1971
Abbot Gerald was born in Holyoke, Massachusetts on March 7, 1912. He attended Saint Anselm College on a basketball scholarship. He professed vows as a monk of Saint Anselm Abbey on July 2, 1934. He was ordained to the priesthood on June 3, 1939. He pursued graduate studies at Catholic University and the University of Toronto. He served as a U.S. Air Force chaplain during the Korean Conflict. Abbot Gerald was elected coadjutor abbot on July 8, 1963 upon Abbot Bertrand's request. Following the death of Abbot Bertrand in 1968, Abbot Gerald became the Abbot of Saint Anselm. His abbatial blessing was celebrated on September 3, 1963, by Bishop Ernest John Primeau of Manchester. As president of Saint Anselm College and then Abbot, he oversaw the construction of several campus buildings including our Abbey Church. Abbot Gerald retired from his abbatial duties due to declining health on December 23, 1971. He died on February 5, 2000 at the age of 87.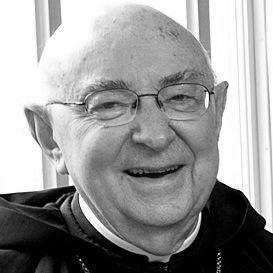 Bishop Joseph John Gerry, O.S.B.
Abbas III, 1972 - 1986
Bishop Joseph was born in Millinocket, Maine on September 12, 1928. He professed first vows as a member of Saint Anselm Abbey on July 2, 1948, following his novitiate at Saint Vincent Archabbey in Latrobe, Pennsylvania. He was ordained to the priesthood on June 12, 1954. Bishop Joseph was elected abbot on January 6, 1972 following the resignation of Abbot Gerald. During his reign, Saint Anselm Abbey assumed control of Woodside Priory in 1976. Bishop Joseph reigned as abbot until Pope John Paul II appointed him as the Titular Bishop of Praecausa and Auxiliary Bishop of Manchester on February 4, 1986. He was ordained a bishop on April 21, 1986 with Bishop Odore Gendron as the principal consecrator and Bishops Ernest Primeau and Robert Mulvee as principal co-consecrators. On February 21, 1989, he was installed as the 10th Bishop of Portland, Maine. Bishop Joseph retired on February 4, 2004, and returned to Saint Anselm Abbey where he currently resides.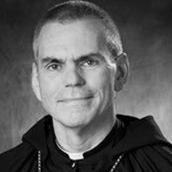 Abbot Matthew K. Leavy, O.S.B.
Abbas IV, 1986 - 2012
Abbot Matthew was born in Bronx, New York on April 19, 1950. He professed first vows on February 2, 1970 as a member of Woodside Priory, at that time a dependant house of Pannonhalma Archabbey. He was ordained to the priesthood on March 21, 1975. After holding various positions in both the abbey and college, he was elected the fourth Abbot of Saint Anselm Abbey on March 4, 1986, at the age of 35 following the elevation of Abbot Joseph John Gerry to Auxiliary Bishop of Manchester. At the time of his election, he was the youngest abbot in the world.  Abbot Matthew retired from his position as Abbot and Chancellor of Saint Anselm College on June 5, 2012. He currently serves our community at Woodside Priory School.
View profile of Abbot Matthew in Saint Anselm College's Portraits Summer 2012 issue »