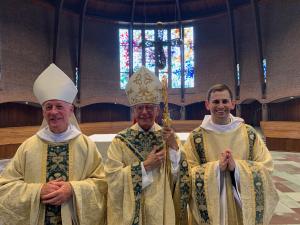 Aloysius Ryan Sarasin, O.S.B., a member of the Saint Anselm monastic community, was ordained to the Diaconate by the Most Reverend Peter A. Libasci, Bishop of Manchester, on Saturday, August 14th, the Memorial of Saint Maximilian Kolbe, in the Saint Anselm Abbey Church. Following his ordination and according to house custom, he will be known as Father Aloysius.
As a deacon, Father Aloysius is now a minister of service for Saint Anselm Abbey and the wider Church. Among his many duties he will assist priests with the administration of the Sacraments.
Father Aloysius was presented for ordination by Abbot Mark Cooper, O.S.B., Abbot of Saint Anselm Abbey.
After the laying on of hands and prayer of ordination by Bishop Libasci, Father Aloysius was vested with the stole and dalmatic, signs of his office within the Church, by his seminary classmates, Deacon Zachary Samples, Diocese of Springfield in Illinois, and Deacon Roarke Traynor, Diocese of Manchester.
During the Rite of Ordination, Bishop Libasci instructed Father Aloysius regarding his new ministry: "As a deacon you will serve Jesus Christ, who was known among his disciples as the one who served others. Do the will of God generously. Serve God and mankind in love and joy."
In reflecting on his ordination, Father Aloysius noted, "It is a great honor and privilege to be called by God to serve Him and His Church in this ministerial office. After discerning a vocation to the priesthood for the last twelve years, it was surreal to finally receive this wonderful sacrament. I am very excited for this next chapter in my life as I begin this new ministry and I look forward to preparing for the priesthood over the next year."
Originally from Leominster, Massachusetts, Father Aloysius is the son of Robert and Dianne Sarasin and was a parishioner of Saint Anthony de Padua Parish in Fitchburg, Massachusetts. He graduated from Saint John's High School in Shrewsbury, Massachusetts in 2013 and attended Saint Anselm College, graduating in 2017 with a degree in theology, and a minor in philosophy.
Father Aloysius professed his solemn monastic vows on July 11, 2021. He is entering his fourth year of theological studies at Saint Meinrad Seminary in Saint Meinrad, Indiana. He will be ordained a priest following the completion of his studies next year.