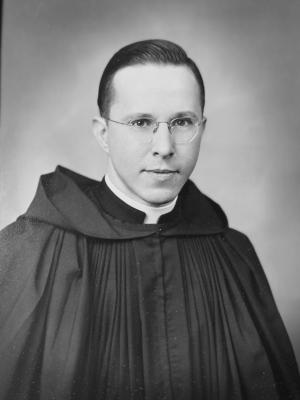 As his confreres were preparing for morning prayer, and fortified by the sacraments of the Church, Father Laurence Joseph Schlegel, O.S.B. entered into the mystery of eternal life in Christ on June 27, 2021. A monk and priest of Saint Anselm Abbey, Manchester, NH, he had been a resident at Mount Carmel Nursing Home for the past few years. At age 94, he was the oldest member of his monastic community.
A native of Washington, DC, Father Laurence was born August 4, 1926, a son of Anna (Sajta) and Leo H. Schlegel. He was an avid walker in his youth, often taking hikes of 10 to 15 miles. Near the end of World War II, he served in the Army Air Corps National Guard unit in Washington, DC.
He was graduated from Gonzaga Academy in the nation's capital, then attended Saint Mary Seminary, Baltimore, MD, transferring in 1948 to Saint Anselm. While at Saint Anselm, he was involved in Catholic Action, the Peace Club, the Debating Club and the Saint Thomas More Forum. He served as a Benedictine monk for more than 70 years, and as a priest in the community at Saint Anselm Abbey for more than 66 years.
Like many monks through the centuries, Father Laurence had certain personal attributes for which his confreres remember him warmly. Among his most admired characteristics was his precision with information, data, and facts. If Father Laurence cited a measurement or referenced an historical date, it was a safe bet that his claim was well-documented and entirely sourced as true. On one occasion, as he traveled from the Abbey at Saint Anselm to a vacation spot at Rye Beach on the New Hampshire coast, he recorded and later announced the exact distance – in miles, feet, kilometers, and meters – between the two locations.
If a confrere needed a container to ship a memento or safeguard an object, Father Laurence was the "go-to" monk, having amassed a rather significant collection of boxes and other containers, which he would generously offer if requested. For monks who transported him from the nursing home to the Abbey for a special event, he could be either entirely taciturn, or especially voluble with the driver on the journey across town.
A 1949 graduate of Saint Anselm College, he completed his novitiate for Saint Anselm Abbey at Saint Vincent Archabbey, Latrobe, PA, and professed vows of obedience, stability and "conversatio morum," a Latin phrase for a vow that includes simplicity and conversion of life, on August 4, 1950. He was ordained to the Roman Catholic priesthood on August 12, 1954.
During the 1960s, while assigned to Saint Mary Abbey, Morristown, NJ, the monastic community that founded Saint Anselm, Father Laurence was assigned to Sacred Heart Church, Wilmington, DE, and Saint Benedict's Church, Newark, NJ, both staffed by Benedictines. Later, in addition to his priestly ministry within the Diocese of Manchester, Father Laurence worked at Saint Anselm College, principally in the Geisel Library, where he served as a reference librarian.
As well as his brothers in the monastic community, he leaves several nephews in the Washington, DC, area.
The monastic community at Saint Anselm will receive Fr. Laurence's body at the Abbey Church Wednesday, June 30, 2021, at 9 a.m., followed by a Mass of Christian Burial at 10 a.m. Committal will follow at Saint Leander's Cemetery on the abbey grounds. Lambert Funeral Home, Manchester, is in charge of arrangements.
We at Saint Anselm request of our fellow Benedictines the customary suffrages for Father Laurence, and we promise faithful remembrance of the deceased of all our alumni, friends, and confreres.