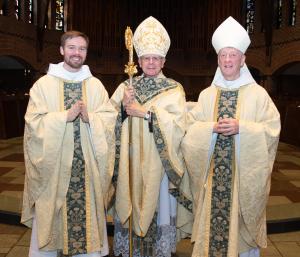 The Reverend Father Titus (Michael) Phelan, O.S.B. '12, a member of the Saint Anselm monastic community, was ordained to the priesthood by The Most Reverend Peter A. Libasci, Bishop of Manchester, on Saturday, April 15, 2023, in the Saint Anselm Abbey Church. The culmination of years of monastic formation and seminary studies, Father Titus now takes his place in the Holy Priesthood of Jesus Christ.
Father Titus was presented for ordination by The Right Reverend Mark A. Cooper, O.S.B. '71, Abbot of Saint Anselm Abbey.
During the Rite of Ordination, Bishop Libasci offered words of instruction and encouragement: "My son, you are now to be advanced to the order of the presbyterate. You must apply your energies to the duty of teaching in the name of Christ, the chief Teacher. Share with all mankind the word of God you have received with joy. Meditate on the law of God, believe what you read, teach what you believer, and put into practice what you teach."
Following the Litany of the Saints, the Laying on of Hands, and the Prayer of Ordination, Father Titus was invested with the priestly stole and chasuble by Abbot Mark.
Father Titus completed his seminary studies by earning a Master's in Theological Studies at the Boston College School of Theology and Ministry in Brighton, MA.
Reflecting on his ordination, Father Titus noted, "I am deeply grateful for the many prayers and words of encouragement from my family, friends, and monastic community. I am looking forward to serving the College community and the wider Church in a new way."
On Sunday, April 16, 2023, Divine Mercy Sunday, Father Titus celebrated his first Mass of Thanksgiving in the Saint Anselm Abbey Church. The Very Reverend Father Arthur Proulx, V.F., a priest of the Diocese of Saint Petersburg, served as homilist. Fr. Proulx was the pastor of the parish in Florida at which Fr. Titus worked before joining the monastery.
Father Titus is a native of Swampscott, Massachusetts. He graduated from Saint Anselm College in 2012 with a degree in Politics and with minors in Catholic Studies and Spanish. He completed the Echo program, receiving a Master's degree in Theology from the University of Notre Dame in 2014. Before entering the monastery, he served as a college campus minister and high school theology teacher. Father Titus currently serves as the Coordinator for Academic Support and Student Programming at Saint Anselm College. This fall he will begin a Master's in Spanish at Bowling Green State University.