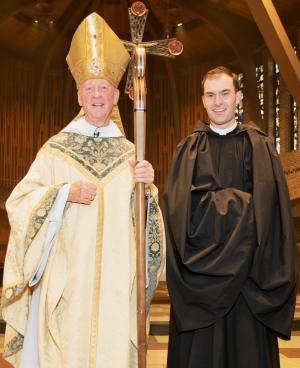 On July 11, 2021, the Feast of Saint Benedict of Nursia, Brother Basil Louis Franciose, O.S.B., professed solemn vows as a monk of Saint Anselm Abbey, Manchester, New Hampshire. Abbot Mark Cooper, O.S.B., clothed Brother Basil with the monastic cuculla, a pleated monastic choir robe, and a symbol of solemn profession. The day co-incidentally was Br. Basil's 28th birthday.
Standing before the altar and before his brothers in the monastery, Brother Basil pronounced vows of stability, obedience and conversatio morum, making a permanent commitment of himself to the Lord and to his monastic community. As a solemnly professed monk, Brother Basil becomes a member of the monastery's Chapter, as well as a Member of the Saint Anselm College, and Woodside Priory School corporations.
Brother Basil is a native of Salt Lake City, Utah. He is the son of Larry and Lori Franciose and was a parishioner of Saint Vincent de Paul Parish in Holladay, Utah. He graduated from Judge Memorial High School in Salt Lake City, Utah in 2013 and attended Saint Anselm College, graduating in 2017 with a degree in theology, and a minor in philosophy.
Reflecting upon his profession of solemn vows, Brother Basil commented, "It is a joy to profess solemn vows as a monk of Saint Anselm Abbey. I wish I had something profound to say, but it just fits. At a certain point you realize that everyone is called to live a life of sacrifice in imitation of Christ, it just depends on how. I am blessed enough to realize that this is the 'fit' that God has for me."
Brother Basil is currently a seminarian at Saint John's Seminary in Brighton, Massachusetts and will be ordained a deacon this fall at Saint Anselm Abbey on September 3rd.