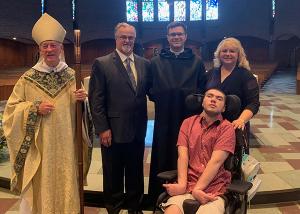 Brother Thomas Kevin Lacourse, O.S.B. professed temporary vows as a monk of Saint Anselm Abbey on July 9, 2022. Abbot Mark Cooper, O.S.B. presented Brother Thomas with the full monastic habit and a copy of the Rule of Saint Benedict.
Through his temporary profession of vows, Brother Thomas embraces the vows of the Order of St. Benedict: obedience, stability, and conversatio morum (fidelity to monastic life) as cited in Chapter 58 of the Rule of Saint Benedict. Upon completing three years as a junior monk, and after careful prayer and deliberation, he may petition the monastic community to profess solemn vows and become a permanent member of the monastic community.
Brother Thomas is a native of Chester, New Hampshire. He is a member of the Saint Anselm College Class of 2015. Following his graduation from Saint Anselm, he earned an MA in Political Theory from the University of Sheffield in 2016 and a Ph.D. in Political Science from Trinity College Dublin.
"Professing first vows brought all of the seemingly disparate pieces of my life up to this point together into one," said Brother Thomas. "It makes the monastery truly home and the monastic community truly family. For those gifts I am immensely grateful."
Saint Anselm Abbey is grateful for the prayers and support of our alumni, friends, and benefactors. Please continue to pray that we may be blessed with more vocations to our community.