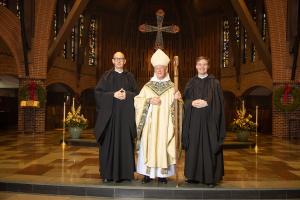 On January 9, 2022, the Feast of the Baptism of the Lord, Brothers Titus Michael Phelan, O.S.B. and Dunstan Noah Enzor, O.S.B., professed solemn vows as monks of Saint Anselm Abbey, Manchester, New Hampshire. Abbot Mark Cooper, O.S.B., clothed Brothers Titus and Dunstan with the monastic cuculla, a pleated monastic choir robe, and a symbol of solemn profession.
Standing before the altar and before their brothers in the monastery, Brothers Titus and Dunstan pronounced vows of stability, obedience and conversatio morum, making a permanent commitment of themselves to the Lord and to their monastic community. As solemnly professed monks, Brothers Titus and Dunstan become members of the monastery's Chapter, as well as a Members of the Saint Anselm College, and Woodside Priory School corporations.
"We are honored to profess solemn vows here at Saint Anselm Abbey. We look forward to many years of seeking God and serving our monastic and College communities," said Brother Titus and Brother Dunstan.
In his homily during the liturgy, Abbot Mark said, "I believe, Titus and Dunstan will help continue and enhance the solid foundation of our community. Although different in many ways, they are both firm in their readiness and resolution to follow Christ in the monastic way of life. Their commitment to our common life, using their gifts and talents to build up both our monastic and college communities, is a source of hope and inspiration for all of us."
Brother Titus is a native of Swampscott, Massachusetts. He graduated from Saint Anselm College in 2012 with a degree in Political Science and with minors in Catholic Studies and Spanish. He completed the ECHO program, receiving a Master's degree in Theology from the University of Notre Dame in 2014. Before entering the monastery, he served as a college campus minister and high school theology teacher. He received a Master's in Theological Studies (M.T.S.) from the Boston College School of Theology and Ministry in 2021. Brother Titus currently serves as the Coordinator for Academic Support and Student Programming at Saint Anselm College and aspires to be ordained to the priesthood in the near future
Brother Dunstan is from Boulder, Colorado. He graduated from the University of Colorado-Boulder in 2007 with a degree in English. He received a Masters degree in Theology from Saint Joseph's College in Maine in 2017. Before entering the monastery, he worked in technical publishing and higher education administration. In 2020, he received a Masters in Theology (Th.M.) from the Boston College School of Theology and Ministry. Brother Dunstan is currently a doctoral student in the Theology Department at Boston College.