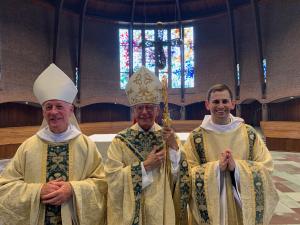 On July 11, 2021, the Solemnity of Saint Benedict of Nursia, Brother Aloysius Ryan Sarasin, O.S.B., professed solemn vows as a monk of Saint Anselm Abbey. Abbot Mark Cooper, O.S.B., clothed Brother Aloysius with the monastic cuculla, a pleated monastic choir robe, and a symbol of solemn profession.
Standing before the altar and before his brothers in the monastery, Brother Aloysius pronounced vows of stability, obedience and conversatio morum, making a permanent commitment of himself to the Lord and to his monastic community. As a solemnly professed monk, Brother Aloysius becomes a member of the monastery's Chapter, as well as a Member of the Saint Anselm College, and Woodside Priory School corporations.
Brother Aloysius is a native of Leominster, Massachusetts. He is the son of Robert and Dianne Sarasin and was a parishioner of Saint Anthony de Padua Parish in Fitchburg, Massachusetts. He graduated from Saint John's High School in Shrewsbury, Massachusetts in 2013 and attended Saint Anselm College, graduating in 2017 with a degree in theology, and a minor in philosophy.
Reflecting upon his profession of solemn vows, Brother Aloysius commented, "Originally, upon hearing the news of my acceptance for solemn profession by the monastic Chapter, my late Novice Master, Fr. Peter Guerin, O.S.B., told me that the day of profession 'will be the saddest day of your life because it is the day you will officially take up your cross and follow the Lord Jesus.' While I agree this is true, I must add that it is, as well, the happiest day of my life as God has called me for life to carry my cross as a Benedictine monk of Saint Anselm Abbey. I am eternally grateful to Abbot Mark, my confreres, my parents, siblings, family, and friends for all their encouragement and support for my vocation. I could not have achieved this goal without the blessings of such special people in my life."
Brother Aloysius is currently a seminarian at Saint Meinrad Seminary in Saint Meinrad, Indiana and will be ordained a deacon this summer at Saint Anselm Abbey on August 14th.